What's it like living with an air source heat pump?
As the installation of heat pumps increases in the UK, we are often asked what it's really like living with a heat pump, as opposed to a gas boiler, or other forms of heating.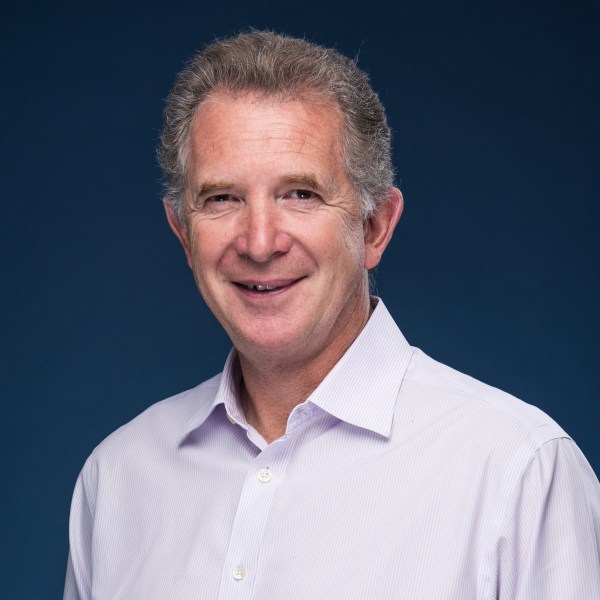 Tim is the project manager at Cosy Homes Oxfordshire, and with his wife, Trish, they chose to take up the service themselves and retrofit their home. After living with their new air source heat pump for a year and a half, they generously agreed to share their experience and how it impacted their energy bills.
You can read the full case study of retrofit to a Cotswolds cottage here.
---
When we decided to change our oil condensing boiler and move to an Air Source Heat Pump (ASHP) our primary reason was to move off fossil fuel and reduce our carbon emissions.
We felt Cosy Homes Oxfordshire had made the whole process smooth and efficient just after we had the work completed and we mentioned this in our case study.
What we most notice over a year after having the work completed at the end of September 2020 though is how much more comfortable our home is. It has been a revelation!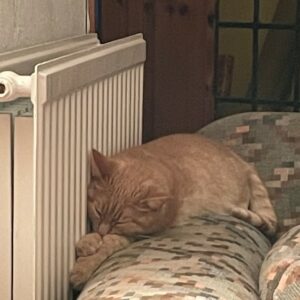 The upgraded insulation means that on cold winter mornings we don't wake up to a house with cold areas, the unused 'playroom', which we used to have to shut off when there was a cold spell in winter, has now become our lovely new warm kitchen with underfloor heating. It's lovely to walk down to on a frosty morning. All the other radiators bar one were fine to use just as they are.
Best of all for me we no longer suffer from that blast of heat from radiators that you get when an oil or gas boiler fires up. With a heat pump, instead, you get that background warmth over a longer period.
There have been a whole number of blue sky days in the winter where we've been in the house dressed normally and we've gone outside and said "Blimey! it's a bit cold out here," and had to pop back inside for another layer for a walk in the outside and decidedly fresh air.
Having changed over to a heat pump I don't think we would consider another home if we were ever to move that didn't have a heat pump as its heating source.
---
The cost of running a heat pump
Like many residents you may be wondering about the cost, and whether your energy bills would increase or decrease when using a heat pump. With our heat pump being on for longer periods, it does sound like it would be more expensive to run.
However, the beauty of a heat pump is that it works to a greater efficiency, providing 45-50°C water for your radiators and this keeps the house at a steady and constant temperature. So, lovely and warm to the touch whether you are furry or not. Compared to the efficient model for a fossil fuel boiler that blasts scalding hot water around your radiators when it starts up.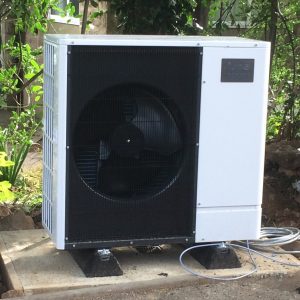 Before moving away from oil we consumed 1,800 litres of oil per year, so some 5.3 tonnes of carbon emissions every year just from our boiler. The typical price of oil over the period from 1 October 2020 to 30 September was 50p/litre, that's £900 on heating and hot water.
Over that same period, we have been able to measure the electricity used to heat our home (3,920 kWh) and provide our hot water (1,548 kWh) amounting to a total usage of 5,468 kWh.
Our electricity price over that period was 14p/ kWh. If we were paying for all that extra electricity our total spend would be £890.
This means the carbon is saved at no additional running costs. You could either count the full 5.3 tonnes as saved since we are on a fully renewable tariff, though I would probably favour saying our carbon savings were 4.0 tonnes, with 1.3 tonnes emitted from our electricity use for the heat pump (using the grid carbon factor which is going down year on year as the grid decarbonises).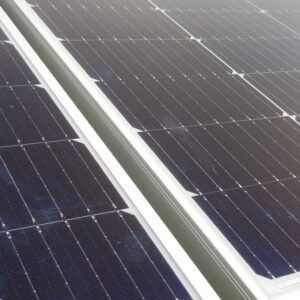 In our case, we have 3.2kWp of rooftop solar PV generating 2,500 kWh of clean electricity per year, and in putting in an ASHP we increased the amount that we consumed ourselves from 55% to 70%.
This results in an extra 15% of the electricity that we could consume ourselves rather than exporting it to the grid. In our case, we have saved around £30-40 per year in what we payout for heating.
Then as an added bonus every quarter with absolutely no hassle the Renewable Heat Incentive (RHI) payment arrives into our bank account from Ofgem. That's £1,572 per year for the first seven years of owning our heat pump, going up by inflation year on year.
---
Energy Prices
A final note on the topic of energy prices. First, tracking our usage a quarter further on from our first year, to the end of September 2021, our electricity usage from the ASHP seems to be stable. From 1 January 2021 to 31 December 2021 we used 3,915 kWh heating and 1,617 kWh hot water, coming to a total of 5,532 kWh. Our electricity price has gone up. However, we have also seen heating oil prices go up.
The price of oil is going to continue to rise, especially when governments and citizens alike call for the true carbon price of the oil we take out of the ground to be reflected in the price that we pay for it.
That gives us confidence that the modest savings that we see from the switch from oil, are going to be increasing year on year. I hope this helps to inspire you to make the change as well. For us, the process was made smooth by the retrofit service at Cosy Homes Oxfordshire.
The running costs are slightly lower and we have been able to take advantage of government incentives that are in place now (before the regulatory 'sticks' that are likely to follow).
Most of all, we are now in a much more comfortable home and have been able to slash our carbon emissions.
Read next…
You might have seen our scheme featured alongside some of our clients in 'The Ultimate Guide To Insulation' in The Sunday Times on the 15th of January, and also available online. Thank you to everyone who participated in the piece, including our

To achieve the UK Government's net-zero objective enhancing the energy efficiency of homes is critical. New analysis indicates that currently, there are 12.6 million properties in England with an Energy Performance Certificate (EPC) rating of D or

A large family home in North Oxford has undergone an eco-retrofit to cut carbon emissions and make the home as energy efficient as possible. Cosy Homes Oxfordshire recently completed work on retrofitting a large Victorian semi-detached property in North