Join our team as a General Contractor
Futureproof your business by working on home retrofits
General Contractors help us deliver the home energy efficiency measures for our customers, from installing insulation and heating systems to renewable energy systems – as part of our whole house retrofits.
When you collaborate with us on home retrofit projects, we enable you to provide your expertise and service to the homeowner through our most efficient process. This includes:
Accessing vetted leads of homeowners in Oxfordshire who are ready to get started with their retrofit project
Working with a Retrofit Coordinator who handles ongoing project coordination and client liaison for you
Saving time with access to RetrofitWorks templates and Building Performance Requirement (BPR)
Quick payment turnarounds following sign-off by the Retrofit Coordinator.
To join our delivery team as a general contractor, you first become a member of the RetrofitWorks cooperative (our delivery partner). There are several additional benefits to becoming a member:
Joining a network of other building professionals working on retrofit, accessing support and advice from across the country

Accessing ongoing training and development opportunities
Futureproofing your business by placing yourself at the forefront of the low carbon construction sector

A seamless transition to TrustMark accreditation through RetrofitWorks, giving your business the reputation it deserves.
How to join the team
To join Cosy Homes Oxfordshire as a contractor partner you'll first need to register with RetrofitWorks. RetrofitWorks is our delivery partner and their team work hard to ensure that your knowledge and skills make each home retrofit project a success. They can also support you to gain the required skills to become a home retrofit expert. Through this support you'll save time and resources, so you can focus on doing what you do best – delivering high quality home retrofit projects.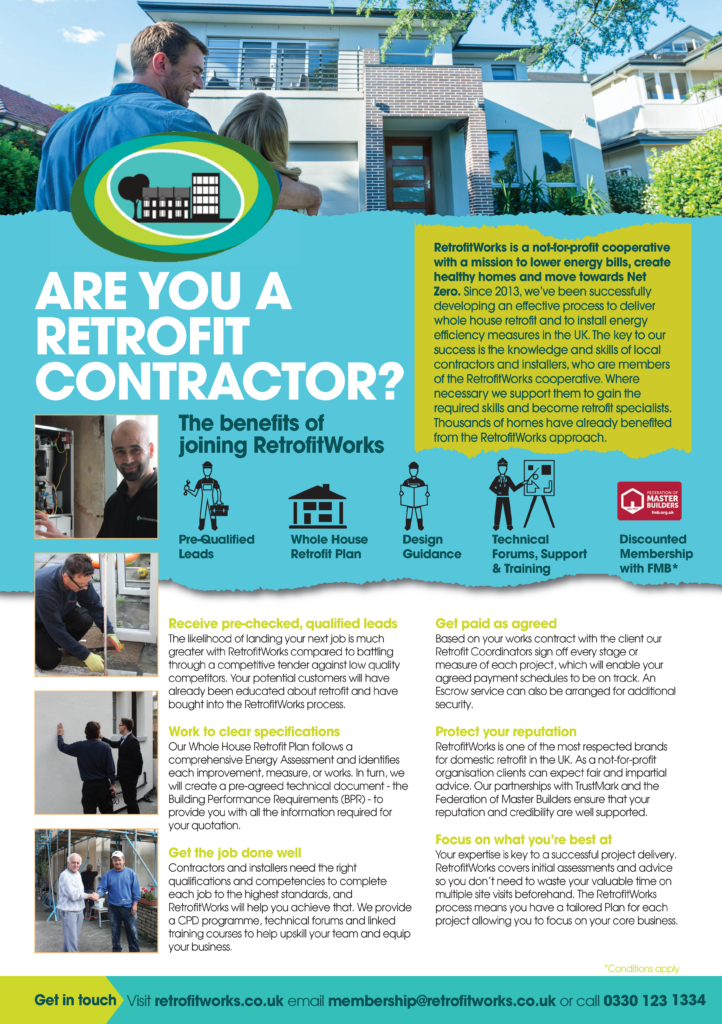 The first step is to get in touch with Michael Huth, Membership and Supply Change Manager for Cosy Homes Oxfordshire to express your interest – and we'll guide you from there.
Email: membership@retrofitworks.co.uk
Phone: 0330 223 2742
There's no better time than now to consider using your skills to work on a home retrofit.

Contact us at membership@retrofitworks.co.uk or call us on 0330 223 2742 to get started.