Environmental Audit Committee (EAC) warns government is failing to take urgent action to improve energy efficiency of UK homes
22 March 2021
Today the Environmental Audit Committee released their latest report: Energy Efficiency of Existing Homes. The report warns that the UK Government is currently failing to grasp the enormous challenge of decarbonising the UK's housing stock, which accounts for 20% of our greenhouse gas emissions.
---
"This wide ranging research with contributions from key advocates and practitioner from across the country shows the extent of the task and the lack of direction that Government is providing. Given the range of benefit to householders, the economy and the climate, stimulating this market has to be a priority for us all.

Our work on the Cosy Homes Oxfordshire project has shown a great deal of enthusiasm amongst customers for pushing this forward and our model is very attractive to them, but the industry needs much more direction from Government over a long term in order to invest in the training and infrastructure needed to satisfy them."

Russell Smith, Managing Director of RetrofitWorks
---
The report shows concerns that:
The Government have underestimated the costs to decarbonise UK homes by 2050, with the EAC predicting the costs will be far higher than the £35-65 billion outlined by the government.
The EAC is concerned that the Government are not keeping to their spending commitments in the 2019 for energy efficiency measures.
Poorly designed schemes, like the Green Homes Grant, are failing to make an impact or create new green jobs.
The supply chain for retrofit remains a key barrier, and the lack of Government investment in retrofit is failing to incentivise contractors to upskill or recruit into the supply chain.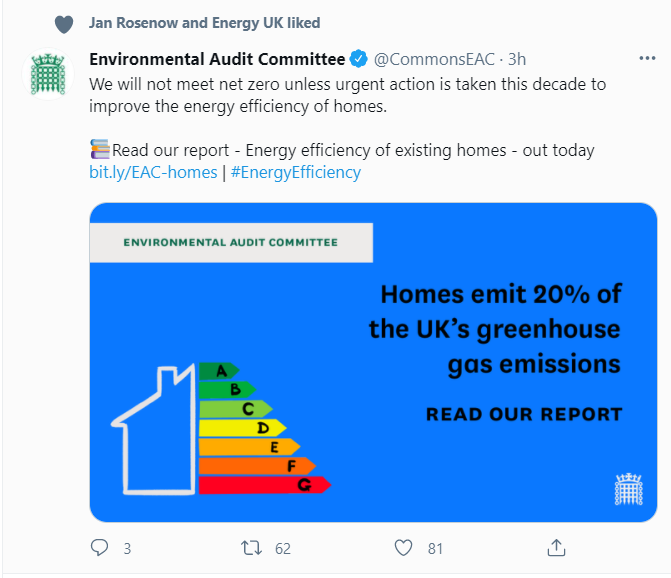 And some of the key recommendations from the Environmental Audit Committee include:
Overhauling the EPC system to better support energy efficiency and low carbon heating – the ideal would be to replace EPCs with a Building Renovation Passport.
Schemes such as the Home Upgrade Grants, Social Housing Decarbonisation Fund and phase two of the Green Homes Grant Local Authority Delivery Scheme should all have their funding front-loaded and the schemes rolled out without delay.
All allocated funding for the Green Homes Grant that has not been spent by the end of March 2021 should be rolled over.
Government should work with the financial sector and major landlords, including local authorities and other social landlords, to stimulate renovation through green mortgages, green finance and low-cost loans.
The Government's basic energy advice service available in England should be upgraded to a specialist bespoke advice service similar to the Home Energy Scotland network.