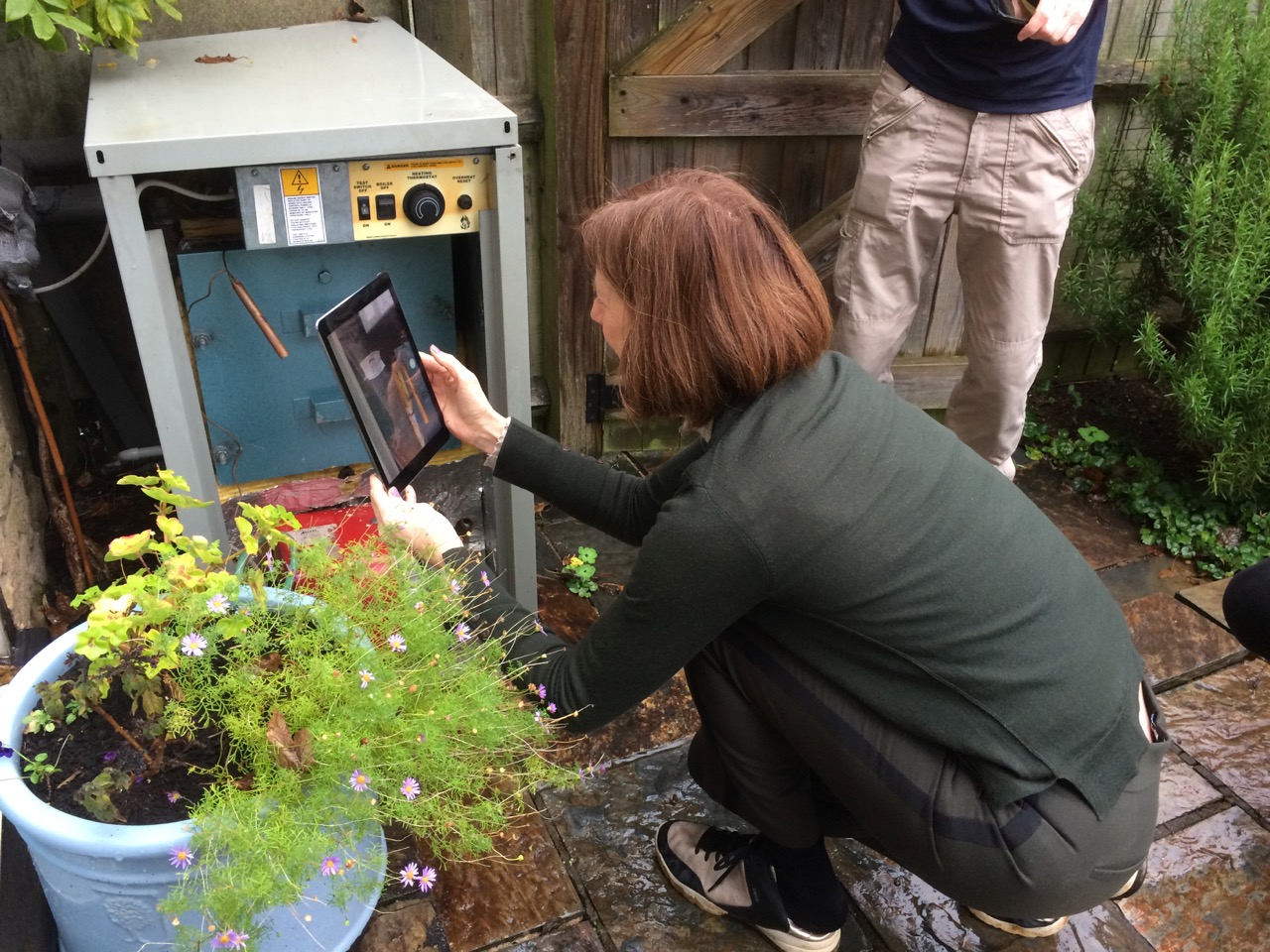 Retrofit resources
As we've developed the Cosy Homes Oxfordshire service, we've also developed several resources on home retrofit and energy efficiency.
We've brought all our retrofit resources together into a library to make them easily accessible, including:
Explainer videos
Retrofit case studies
Cosy Homes interactive house: highlighting common areas of wasted energy in the home, and energy efficiency measures to reduce this
Cosy Homes Plan Builder: a free tool to get an initial idea of the opportunity to reduce energy use and carbon emissions in your home through retrofit (currently available to Oxfordshire postcodes only)
Webinar recordings and short clips
Communications pack for rental tenants.
Explainer videos
How home retrofit can transform a cold, draughty house into a cosy and energy efficient home
Behind the scenes during home energy assessments in Hook Norton, Oxfordshire
The importance of home retrofit in the context of the climate emergency – interviews with Oxfordshire's community
How to heat your home without relying on oil or gas – greener ways to heat the home
Retrofit case studies
Retrofitting to get a Hook Norton cottage off fossil fuels for good [PDF]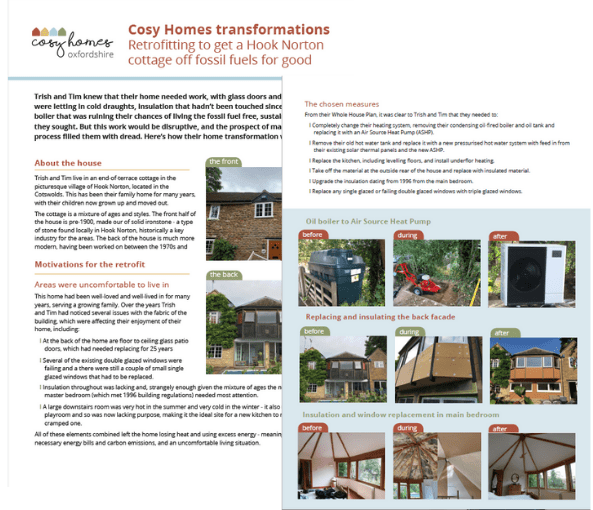 Retrofitting an end-of-terrace family home in east Oxford [PDF]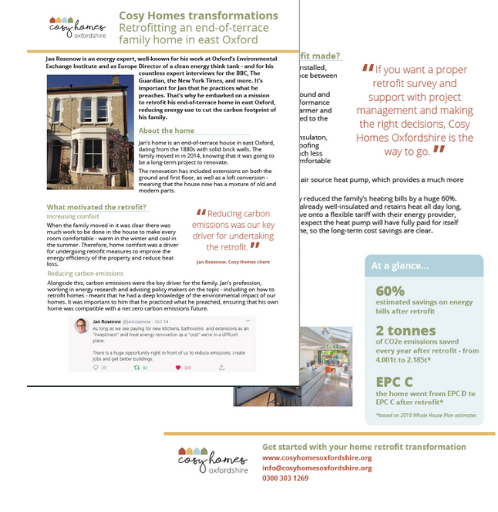 Tackling extreme mould in a semi-detached house in Headington with Charlie Luxton
Retrofitting a barn in Hook Norton to add additional space to the home with Charlie Luxton
Making a cold, dark terraced house in Oxford feel cosy and warm with Charlie Luxton
The Cosy Homes Interactive House
Our interactive 'Cosy House' demonstrates common areas where energy is lost in our homes and the energy efficiency measures which can be put in place to help homeowners stop wasting energy and reduce their environmental impact. It can be found on our 'For Homeowners' page.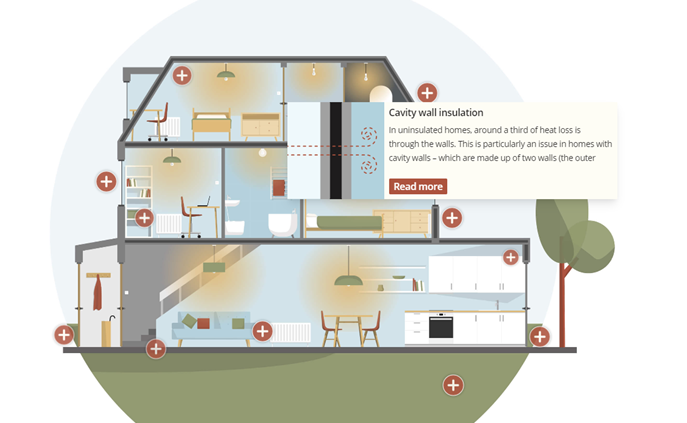 The Cosy Homes Plan Builder
Curious about what a retrofit might look like for your home? We've developed the Cosy Homes Oxfordshire Plan Builder to help you get an idea of the retrofit opportunity for your home and build a plan of action – at no cost to you. Plan Builder is only available if you have an Oxfordshire postcode.

Pilot phase learnings and impact report
During the pilot phase, we launched our full retrofit service, making numerous learnings along the way about delivering home retrofit – from the marketing to engaging with contractors to delivering work onsite. To mark the end of our pilot phase, we shared these learnings as well as the impact Cosy Homes Oxfordshire had during this first phase.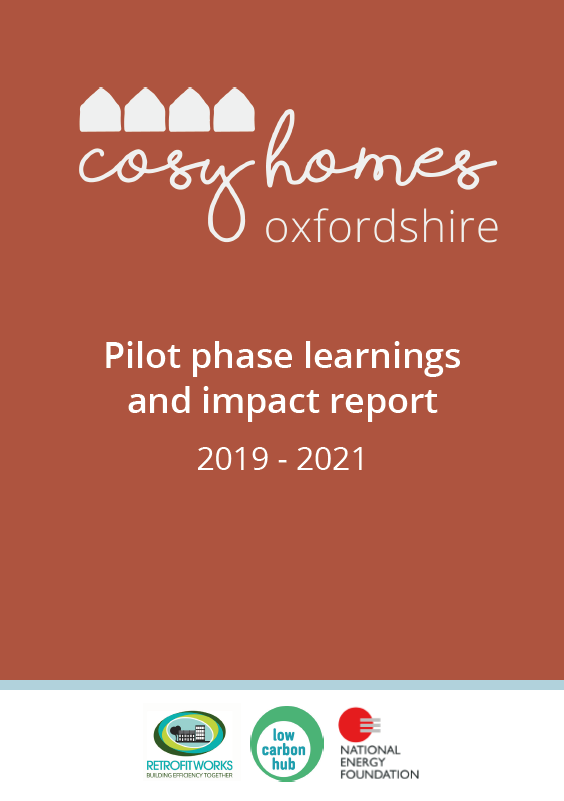 Home retrofit webinars
A beginners guide to home retrofit with Douglas Drewniak
Why we need whole house retrofit schemes to improve the energy efficiency of our homes – and an introduction to Cosy Homes Oxfordshire with Geordie Stewart
A guide to using air source or ground source heat pumps to heat your home, with Retrofit Coordinator Natasha Ginks
A guide to insulating your home – loft, roof, floor, and wall insulation, with Retrofit Coordinator Paola Sassi
A playlist of short clips from our webinar series: key questions in home retrofit
A definition of 'retrofit'
Why the average UK home is not energy efficient
A simple way to understand home retrofit – the thermos flask analogy
The difference between Internal, External, and cavity wall insulation
When to consider roof or loft insulation
Which are better, double or triple glazed windows?
The do's and don'ts of heat pumps
Which homes are best suited to heat pumps?
Why should you bother to insulate your home?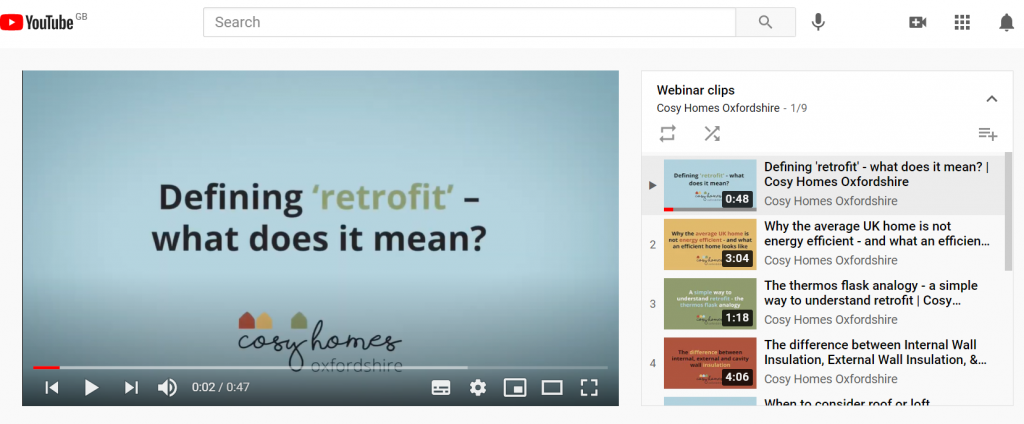 Communications pack for rental tenants
A pack to help tenants engage with landlords to improve the energy efficiency of their homes.
An email template to send to your landlord and/or letting agent
A digital postcard containing information about how Cosy Homes Oxfordshire can support landlords with energy efficiency work
Image cards which you can use on social media – tag your landlord/letting agent (and us! @cosyhomesoxon)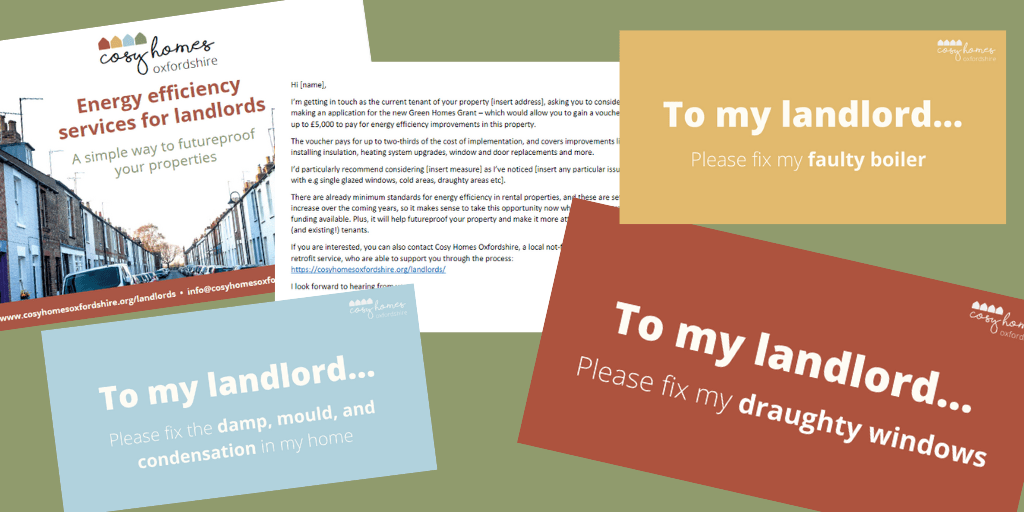 Retrofit news and blogs
Plus, there's the Cosy Homes Oxfordshire blog, where we publish the latest news and updates from the world or home retrofit as well as blogs containing insights on home energy efficiency from our team.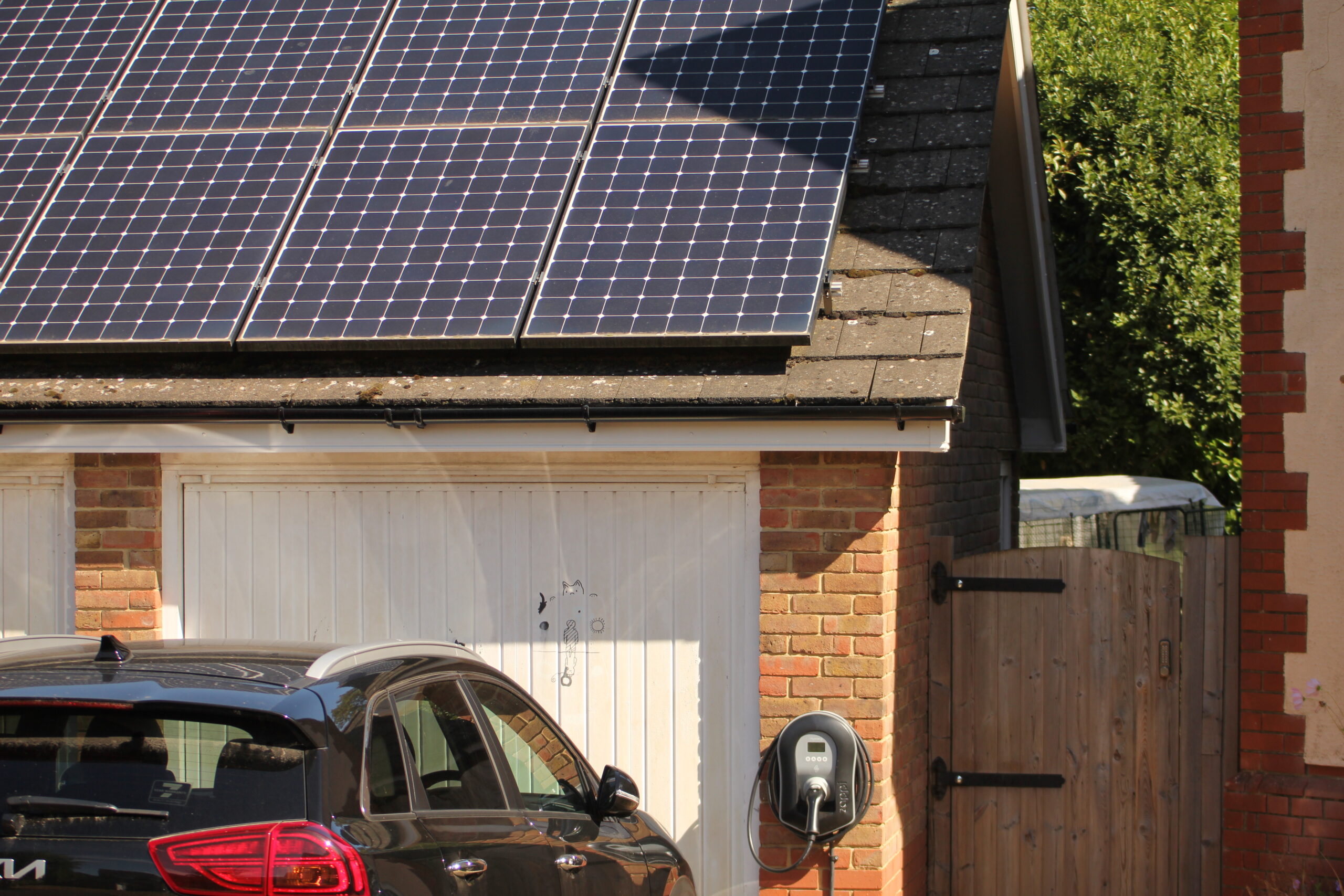 Featured Blog post
With energy bills rising, we're going to look at whether getting a solar PV array could save you money, or even make you money, while also generating clean and green electricity for your